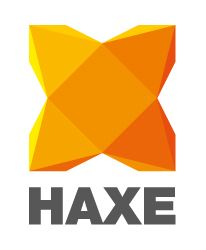 Haxe, the open source language I used every day for about 4-5 years is now managed by the good folks at the Haxe Foundation. And this is an incredibly good thing. This foundation will fully support the development of this great language and offer highly reliable support for companies who need it.
If you don't know it yet, Haxe is quite like the Ring: one language to rule them all.
This single language can target a vast number of platforms : Flash, JS, HTML5, Neko, C++…
The syntax is easy to learn yet incredibly flexible (with the mystical ancient powers of macros),
It heavily uses Type Inference, which is a complicated word to say the language is intelligent and can guess the types of variables you use, even if you don't specify it (ex. var a=5, ok that's an integer, so if you try a="test" few lines later, the compiler will pop an error ; yes I'm looking at you javascript..)
With NME (broken link, project no longer exists), the language can now target easily mobile devices with great results and performances.
All the games I make are written in Haxe and I use it daily on much larger projects.
Try it :)