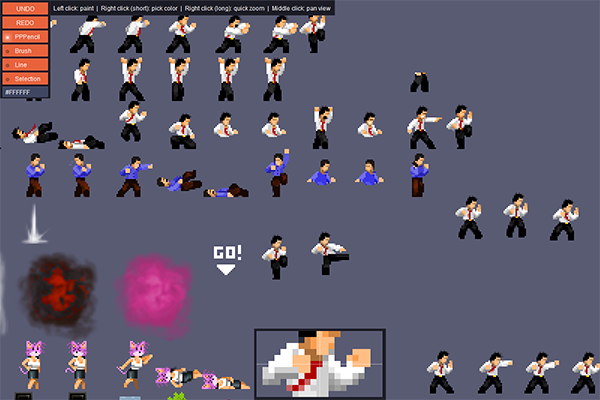 PPPaint (aka Pixel Perfect Painter) is a new project I'm working on at home. It's a pixel art drawing tool that will have some nice features (see below). Note that it still is a Work in Progress: most interface elements are only placeholders and many things still have to be implemented.
You can try the prototype now (no longer available), if you dare, no load nor save yet. Comments are more than welcome :)
PPPencil — left click to paint, right click to pick color (this tool allows you to paint pixel perfect curves on the fly)
Brush — left click to paint, right click to pick color (this is the classic Brush)
Lines — left click and drag to draw a single line, left click (short) to draw multilines, right click to pick color
Selection — left click and drag to draw a selection, then left click again to paint with this selection, right click to cancel
CTRL-Z / CTRL-Y : undo / redo
Features:
a huge focus on ergonomics: making drawing a pleasure is a top priority here. This means particles effects, many keyboard shortcuts, best use of left/right clicks and other tricks.
a tool designed only for pixel art: the PPPencil (Pixel Perfect Pencil). See an explanation here.
some long forgotten tools and ideas from Neochrome (Atari) and Deluxe Paint (Atari/Amiga), like the permanent magnifying glass.
a combo system that allows you to save your [current tool + settings + color] in a shortcut (0-9), just like in Starcraft. You can recall this combo later by just pressing the corresponding number.
you can copy your current selection in one buffer among 10, and recall it at any moment, easily.
you can paint with your selection
2D grids, iso grids, seemless tile preview, plus many many other things…
Most of these are still on ToDo. But the idea here is to create something that is just super fast to use and 100% dedicated to pixel art.